MOVING FAMILIES INITIATIVE®
Moving is difficult for anyone, especially for children. The Moving Families Initiative® is an international plan focusing on serving, protecting, and meeting the needs of families moving or relocating throughout the United States with children ages 19 and younger, with a specific focus on protection for the Initiative Parent's children.
MOVING FAMILIES INITIATIVE® PREFERRED REAL ESTATE AGENT™
The primary purpose of the Moving Families Initiative® Preferred Real Estate Agent™ Network is to provide dedicated, passionate, committed, and purposeful Trusted Advisors to deliver the best resources, and products and services available to the marketplace to Initiative Parents when the Initiative is activated by their family. It's the actual act of an Initiative Parent moving or relocating with children ages 19 and younger and connecting with a Moving Families Initiative® Preferred Real Estate Agent™ via an HSF Affiliates Home ConnectionsSM referral, that activates the Initiative for their family.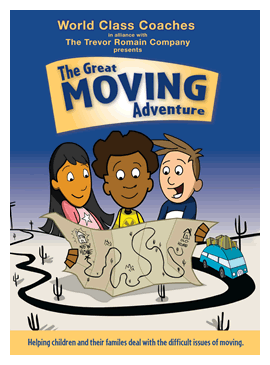 This film is suitable for children of all ages. Running Time: 25 Minutes Plus Music Video
Retail price: $14.95
Special web only price
$10.00
Additional Benefits Partner discounts may apply
PROMO CODE
ARA2010
MFI Preferred Real Estate Agents: When you consider providing your clients with something of value, give them The Great Moving Adventure to help them and their children deal with the issues involved in moving.

you will be directed to
The Trevor Romain Company website