MOVING FAMILIES INITIATIVE®
Connecting California real estate agents who are REALTORS® with Moving Families – to assist them and their children in dealing with the challenges they face when moving .For Moving Families Initiative®(MFI) Preferred Real Estate Agents™, it's about customer and client acquisition, satisfaction and retention.
DEALING WITH THE CHALLENGES OF MOVING
Moving is a challenging and difficult experience for a family, especially for children. World Class Coaches® has united with the Trevor Romain Company to help Moving Families deal with the difficult issues of moving. "The Great Moving Adventure," is a powerful DVD to assist children and their families in dealing with the challenging issues they face when moving.
This film is suitable for children of all ages.
Running Time: 25 Minutes Plus Music Video
FREE BONUS!!
California real estate agents who purchase "The Great Moving Adventure" DVD are eligible for free training. Knowing the best ways to introduce this powerful DVD to buyers and sellers with school age children is important to achieve the objectives of The Moving Families Initiative®. As a REALTOR®, you can learn – for free– the most effective methods of utilizing "The Great Moving Adventure" DVD to capture and convert more leads among Moving Families for life. Register for free training here >>>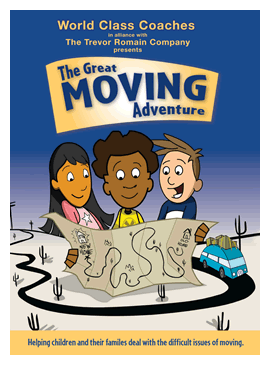 Retail price: $14.95
Special web only price
$10.00
Additional Benefits Partner discounts may apply
Real estate professionals: When you consider providing your clients with something of value, give them The Great Moving Adventure to help them and their children deal with the issues involved in moving.


you will be directed to
The Trevor Romain Company website